Getting Started with BarTender Cloud
BarTender® enables organizations around the world to improve safety, security, efficiency, and compliance by creating and automating the printing and control of labels, barcodes, RFID tags, plastic cards, and more. BarTender gives you the tools to easily and efficiently design labels and templates; to configure and connect to data sources and business systems; and to launch print commands from any system, operating system (OS), or device.
BarTender Cloud is a software as a service (SaaS) product that offers click-and-print functionality in a cloud-based setting that makes it easy to manage, select, and print BarTender documents. By using BarTender Cloud, anyone can print BarTender documents remotely, no matter what kind of device, operating system, or internet browser is being used.
After you sign in to BarTender Cloud, you can click

on the toolbar to access the help documentation for more information. You can also click your profile image on the toolbar to display the main menu, where you can access your My Profile page and resources on the Seagull Scientific website.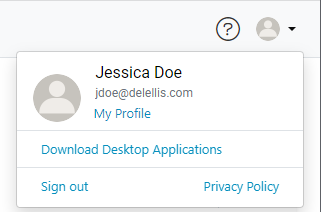 BarTender Cloud provides several views that organize the various features. The options and panes that appear in the main BarTender Cloud window vary depending on the view that is displayed, and your access to these views depends on your user role.
To display the view navigation menu, click

on the toolbar.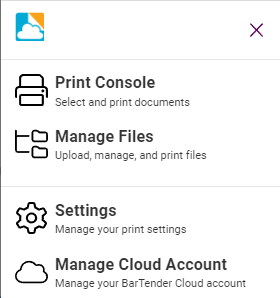 In This Section