Locating and Printing Your BarTender Documents
Use the Print Console view to quickly locate and then print your BarTender documents. To display this view, click

on the toolbar, and then click Print Console.
Locating Documents
The left navigation pane in the Print Console view displays your documents in a folder hierarchy. You can browse these folders to locate the document that you want, or you can use the search bar to filter the documents that are displayed for the selected folder. You can also group and sort documents and folders by name, keyword, or other attributes to make them easier to find.
Printing Documents
The first time that you use BarTender Cloud to print a document, you are prompted to install the Print Gateway service. By installing this service on any Windows device, you can print to any printer that is connected to your device. Printing to PDF is also supported (for Windows and other devices).
Driverless printing is also supported. This means that when a printer is connected to the client device but the BarTender Cloud server does not have a driver installed for that printer, the server can still stream a printable file to the client printer without using the driver.
To print a document 
In the document selection pane, click a document to open the Print page.

In the Printer list, select the printer that you want.

In the Copies field, enter the number of copies that you want to print. If your document contains serialized data, enter the number of serial numbers and the number of copies per serial number that you want to print.

To preview the document before you print it, click Preview. Otherwise, click Print.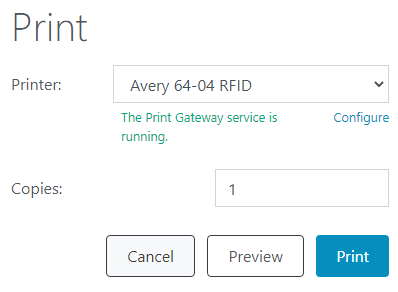 Related Topics